Almost everyone has gotten some kind of traffic ticket before, be it a speeding ticket, or something else. It's almost always a hassle and never a fun experience. Luckily, the California traffic ticket lookup system makes finding and paying for these traffic tickets much easier. Keep in mind, there is no traffic ticket lookup system for all of California. Instead each county has a site specific to dealing with traffic violations and other court matters occurring in that county. Nevertheless, it relieves the stress of having to mail in the ticket with your payment and hoping it manages to get to the right place. The traffic ticket lookup system lets you find and pay your fines online from the comfort of your own home, or on the go with your smartphone.

What is It

The California traffic ticket lookup system is an online database that allows you to perform a variety of actions in response to receiving a traffic violation. You can look up your traffic violation to see the details and reasoning for its issue, along with pay any outstanding fines associated with traffic violations. The database also provides information on how fines are calculated, as well as other general information about the processing and issuance of traffic violations.
How Does California Traffic Ticket Lookup Work
Get started by Google searching "[Name of County] Traffic Ticket Lookup." This should be the county you received the ticket. For example if you were given the ticket in San Diego County, search "San Diego County traffic ticket lookup." The first results should be either "[County] Superior Court or The Superior Court of California – [County]."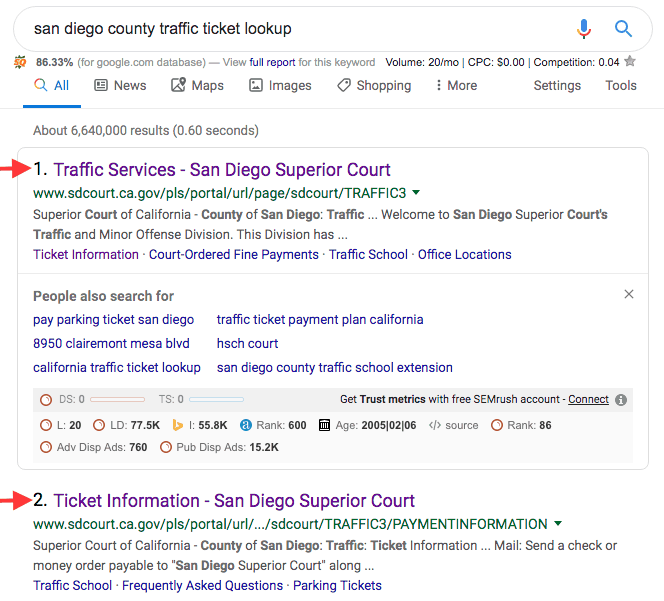 Click on one of these links for "Superior Court" and navigate to the traffic division page if not already there. From the traffic division page, there will be a link to pay for the traffic ticket/citation online.

How to Find My Ticket
When looking up your ticket, there's a variety of options you can choose from for a lookup method. If you don't have the ticket on hand, or can't find it, you can do a search using your driver's license and date of birth to pull up any tickets in the system associated with that license. From there, just find the ticket you're looking to pay (hopefully there's only one or two at most), and then follow the steps to pay off your ticket.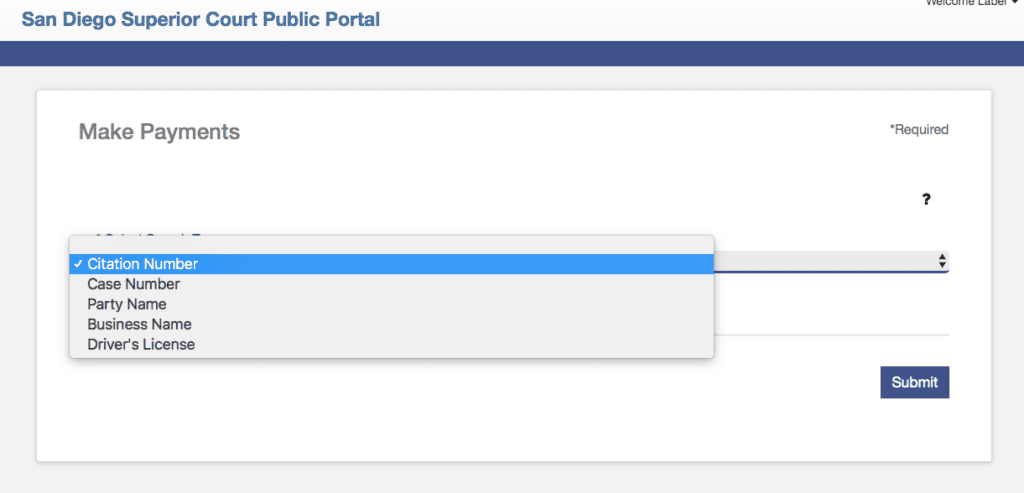 If you'd rather look up the ticket directly and make sure you're paying off the right thing, there are a number of other options to choose. You can search by citation number, in which you'll need the citation number on the ticket, your last name, the issuing agency, and the year the ticket was issued. If it was a red light camera ticket, you would just select RLC as instructed from the menu. From there, the system will pull up the corresponding ticket and allow you to pay right online.
You can also search by case number, which requires a lot less information to pull up a result. All you need is the case number on the ticket along with your date of birth and you should be good to go. The last option, searching by XREF number, also requires just the date of birth and reference number.

How is It Useful

Having the ability to pay off your traffic tickets from home or on the go at your convenience saves a lot of time and worrying that comes with sending payment by mail. If you decide to pay your ticket, you can have the process done in minutes. Remember to write down or save your confirmation number just in case there is a snag in the records process, so you have proof of payment if there's any question on if the ticket is still outstanding. If you do plan on fighting the ticket, GetDismissed has a great service that takes advantage of the Trial by Written Declaration system to help fight your ticket without having to appear in court.
You can also find out more information on how to apply to have your fine or sentencing reduced for corrections. In some instances, the fine can be reduced if you fix the violation that caused the violation in the first place. For example, if you received a citation for lack of insurance because your insurance card wasn't on you, you can provide a copy of valid insurance showing the vehicle was insured at the time of the citation to reduce the fine to as low as $25.
There is also a page showing the payment types accepted. These methods include by mail, by credit card through the website, by drop box, or in person. If you are financially unable to pay the fine, there is also the possibility of paying through community service. You would have to attend a hearing in order to show your inability to pay said fines, and this payment method must be approved by the court. There is no guarantee you will be allowed to pay via community service, though if you are, there are various forms of community service to accommodate all education levels and physical limitations.
Overall, the California traffic ticket lookup system offers a convenient way to look up and pay traffic violations, as well as find more information on procedures and ways to reduce your fine, along with the proof of corrections procedure. The biggest benefits offered are saving you time, and giving you the peace of mind your payment for that red light ticket didn't get lost in the mail somewhere on the way to the issuing department.

GetDismissed is a prime example of a ticket dismissal service. The GetDismissed system has helped countless San Diego drivers revoke citations, save money, and keep a clean driving record in the process. The great thing about GetDismissed, is that there are no burdensome lawyer fees that will put a hole in your wallet regardless of the court outcome. If you wind up with a San Diego traffic infraction, be on the lookout for breaches of traffic patrol policy. These instances can act as a potential defense to your case. Remember to hold off on hiring a San Diego traffic ticket lawyer, and use a ticket dismissal service with a trial by written declaration, first. Find out how GetDismissed can assist you, and don't hesitate to contact us with any questions.