Use our Book
GETDISMISSED:

THE SEQUEL.

How do you follow up a book as successful with helping people fight their California traffic tickets as "GetDismissed: No Brainwork Required, It's That Simple."? Well, with The Sequel of course.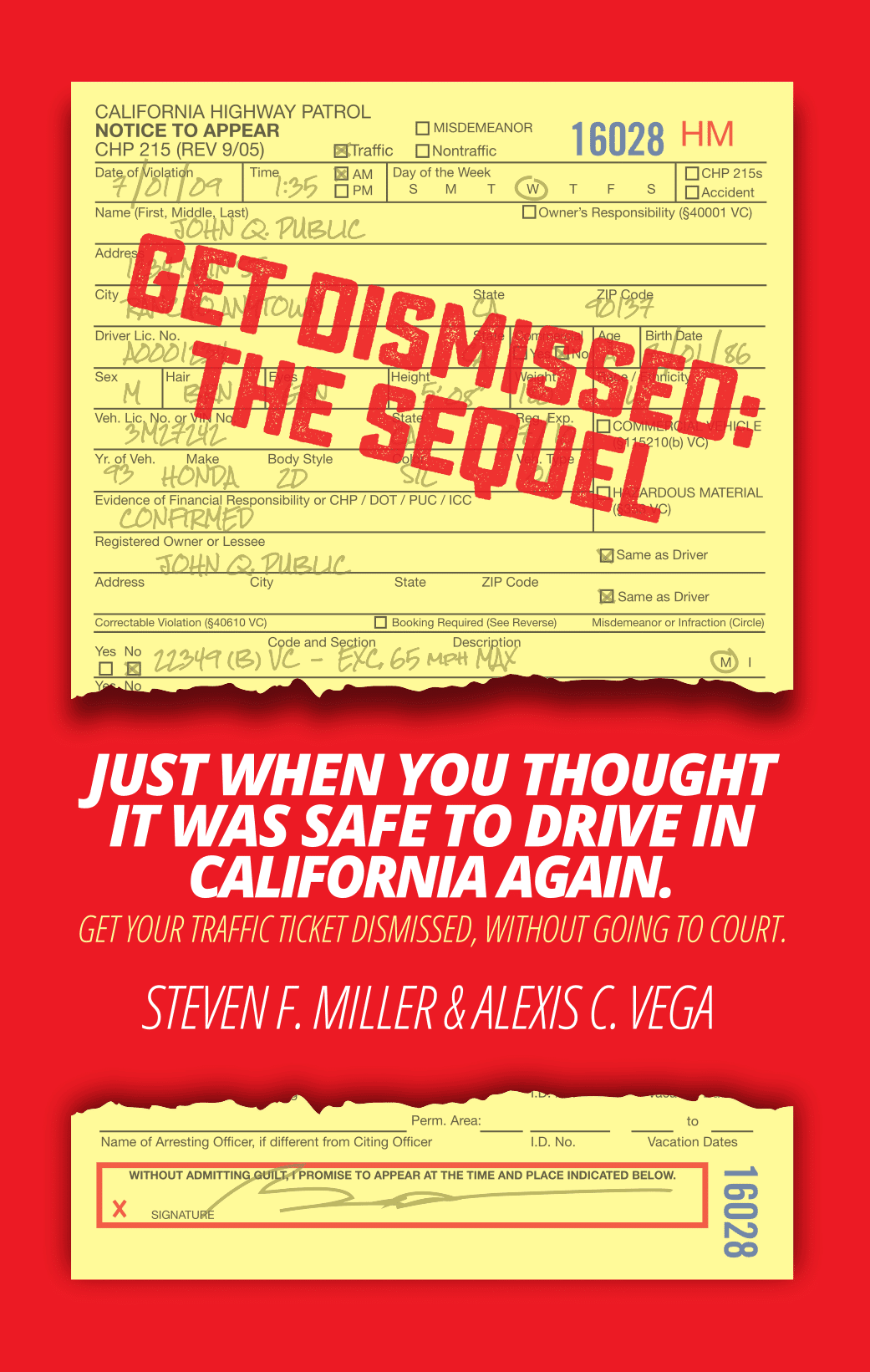 WHY SHOULD YOU READ THIS BOOK INSTEAD OF OTHERS?
There are many books that deal with traffic tickets and how to fight them, but this is the ONLY book that gives you the best roadmap of options on how to fight your ticket.
So why do you need this book and why you need GetDismissed; together, they will save you TIME and MONEY and keep you safe when you drive in California.
GetDismissed: The Sequel. Just When You Thought It Was Safe To Drive In California Again. The authors of the original GetDismissed book are at it again. They've gone back to the drawing board and have updated their original book and trade secrets and have included a whole lot more. They've even updated their popular California traffic ticket fighting web application and mobile application. It's all here people. You drive in California, you will get a traffic ticket at some point. It's not safe out there unless you have GetDismissed. Now here's some more about the book.
There is a better way to fight traffic tickets in California…and we know what it is! That's what the brain-trust here at GetDismissed has been evangelizing about for the past 15 years, while helping tens of thousands of drivers successfully fight their traffic tickets.
So, what is this "better way," and what exactly can be done when you receive a traffic ticket? Should you just pay the ticket? Go to traffic school? No, there are better options available. Should you go to court and fight the ticket yourself? Hire an expensive attorney to fight the ticket for you? Those methods could waste even more time and money than your first options. We have better ideas, and we will share them with you in this book.
With our system, you have all the exact same rights under the law to contest a traffic ticket, but also don't have to waste your precious time and money in court. The process is called a "Trial by Written Declaration" and has been around since 1978 and provides unlucky or unfortunate drivers with a very quick, simple, and effective solution for fighting traffic tickets. The Trial by Written Declaration process can be found on the back of every single traffic ticket issued and gives drivers an option to contest their traffic ticket in writing without ever having to step foot in a courtroom.
Drivers complete the documents and submit them to the court by mail instead of going into court to contest the traffic ticket in person. This "by mail" option – the Trial by Written Declaration – is the best way to contest a traffic ticket in California and eliminates the need for you to waste your time fighting your ticket in court.
Before we move on, we would like to make a bold prediction right here, right now. In the not-so-distant future, the day will come when you will not even be able to go to court to contest your traffic ticket in California. The Trial by Written Declaration process is the only way for the court to save time and money and will take contesting traffic tickets out of the courts due to simple necessity. This will be done to reduce costs while still ensuring the taxpayer's rights. There is no other way. Period.
The GetDismissed service facilitates the process for completing and filing a Trial by Written Declaration with the court. Simply take a picture of your traffic ticket and another picture of your driver license, answer a few questions, download the documents and "voila," your Trial by Declaration is completed for you and ready for you to file with the court.


GETDISMISSED:

NO BRAINWORK REQUIRED, IT'S THAT SIMPLE.

Get your traffic ticket dismissed without going to court.
The bad news is that you just got a traffic ticket…or ANOTHER traffic ticket.
The good news is that this book is going to help save you time and money by getting that traffic ticket dismissed.
Not many drivers are aware of it, but there is a better way to deal with traffic tickets in California than by taking a day off from work, running down to the courthouse, begging a judge to go easy and then writing a check to the court clerk for hundreds and hundreds of dollars. What is this "better way" and how do you do it? The entire process is actually very straightforward and easy from start to finish. There are no "tricks" involved and everything is absolutely 100% legal. In fact, this "better way" is actually mentioned on the back of every single traffic ticket issued.
The secret is called a "Trial by Written Declaration" and it has been available to all California drivers since 1978. All you need is our book, which is available online at www.getdismissed.com, and the GetDismissed App, which can be downloaded for free at the App Store and Google Play.
The book will walk you through the steps to prepare the best defense for fighting your traffic ticket and the App will actually prepare your written defense for you! Your defense will be ready within 48 hours (not counting weekends and holidays). All you have to do is snap a few photos with your smart phone camera and answer a few simple questions. Then download your documents and send them to the court. That's all. Seriously. The hardest part will be finding a stamp.